The FOR-FREIGHT (Flexible, multi-mOdal and Robust FREIGHt Transport) project aims to maximise the utilisation of multimodal freight transport capacity, achieve competitive sustainability with higher levels of efficiency, and reduce the average cost of freight transport through the development of novel solutions and their integration with legacy logistics systems. This will enable more effective and sustainable management of goods and freight flows in airports, ports, inland terminals and various logistics nodes, taking into account the requirements of all involved stakeholders, and accounting for economic, environmental and social aspects. The FOR-FREIGHT solutions will target the end-to-end optimization of multimodal/multi-stakeholder logistics processes and improved access to transshipment services through the following Unique Value Propositions:

Real-time, Door-to-Door Tracking
Real-time, door-to-door tracking across stakeholders' domains and management systems (elimination of information silos) with global geo-location and status monitoring & control of Intermodal Transport Units (ITUs).

Decision Support Systems (DSS)
Decision Support Systems (DSS) for the optimization of resource utilization (labour, vehicles, equipment) using advanced Artificial Intelligence (AI)/Machine Learning (ML) techniques and Digital Twin concepts.

Increased Resilience & Security
Increased resilience of the multimodal logistics chain against large-scale disruptive events (e.g., pandemic), based on proactive planning, heterogeneous data analytics, etc., and increased security of information exchange based on Blockchain technology.

Carbon Footprint Assessment & Transport Networks
Increased sector sustainability through the adoption of a carbon footprint assessment framework and the utilization of public transport networks (e.g., subway) leading to reduced GHG emissions.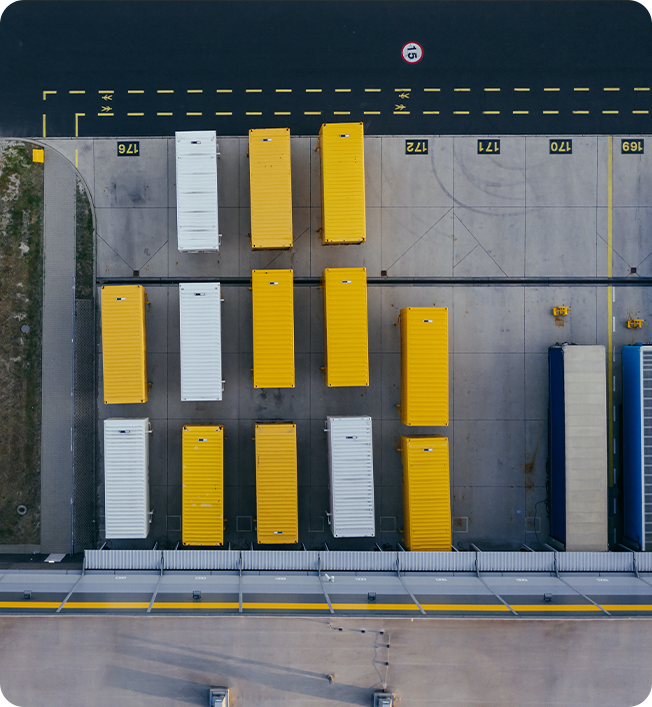 The methodology of FOR-FREIGHT is structured in the following key directions:
The creation of three multimodal T&L trial sites in operational environments.
The integration of the functionality of the three sites under a common cloud-based experimentation platform, offering access, monitoring and evaluation capabilities.
The realization of extensive trials to test and validate the proposed multimodal logistics services.
The creation of sustainable business models and development plans for collaborative, multimodal T&L services.
The creation and evolution of a multimodal logistics ecosystem to promote the adoption of novel FOR-FREIGHT solutions.
The FOR-FREIGHT overall concept and envisioned platform architecture are reflected in Figure 1 below, focusing on logistics solutions to be developed and demonstrated. The project's use cases (UCs) and real-life field trials will target three complementary intermodal transport scenarios, namely seaport-to-city (last mile) with the use of the subway network, seaport-to-airport with the use of trucks, and inland (river) port-to-mainland via rail transport, thus covering a broad spectrum of relevant functionalities and accommodating the requirements of the majority of T&L stakeholders.